Help parents get to the root of their child's challenges and create an environment where their whole family can thrive.
Provide parents with practical tools and strategies to reduce anxiety and defiance & create calm and connection.
As one of the pioneers in the field of ADHD/Executive Function Parent Coaching, Cindy Goldrich has been supporting parents through the most perplexing and stressful challenges they have ever faced – helping the children, whom they love so dearly, learn to become their best selves.
This professional training is based on over a decade of work supporting parents and incorporates the most current, researched-based information about ADHD, Executive Function, behavioral challenges, and learning challenges. Cindy has supported thousands of parents and children through tremendous personal growth and helped many marriages go from contentious to supportive. Parents continue to share with her their stories of success, large and small. They report less arguing and ignoring rules, deeper, more meaningful communication, joyful time spent together, and improved grades and school reports.
The ADHD Parent Coach Academy training is open to Mental Health Professionals, Professional Coaches, Educators, Nurse Practitioners, School Psychologists, Learning Specialists, Occupational Therapists, Speech-Language Pathologists, Parents, and Caregivers. They are ready to lead others through this unique journey. This training is available in English and Spanish.
Learn the essential science and latest research on how ADHD and Executive Function deficits impact every aspect of an individual's life.
Develop best practices and strategies to help parents gain knowledge, strength, and confidence, improving child behavior and performance at home, school, and in life.
This course is approved by ICF for 36 hours of CCE – Continuing Coach Education (24 hours Core Competency, 12 hours Resource Development), by AOTA for 2.0 CEUs, and by NBCC for 24 Credit hours.
Learn how to help parents incorporate the groundbreaking work and philosophies of Ross Greene, Russell Barkley, Edward Hallowell, and Carol Dweck in a structured, comprehensive, and manageable program.
Train to facilitate Calm and Connected: Parenting Children & Teens with ADHD/Executive Function Challenges© parent workshop series for groups in your community. Professionals nationwide and beyond refer to this workshop series to help parents understand the social and emotional impact ADHD and Executive Function challenges have on learning, motivation, behavior, and the whole family system.
Train to facilitate Managing Homework – Parent Edition: ADHD/EF Tips, Tools, and Strategies for Helping Students© 2-hour parent workshop. Support parents with specific tools and strategies to manage the homework process and help students be more effective and successful in approaching their work. Help parents ease the stress and battle over homework time.
Learn to provide 1-on-1 parent coaching support using the impactful CalmConnected© philosophy in your private practice.
Learn to facilitate the following parent presentations for use in community education and marketing:

Top Ten Strategies for Parenting Children & Teens with ADHD & Executive Function Challenges©
Skills for Success: Helping Your Child or Teen Develop a Growth Mindset©
Student Goal Setting: The How and Why for Parents and Educators©

Gain comfort and confidence in marketing and networking to expand your referral base and reach new clients.
Course Details & Expectations
The Training consists of 24 hours of live interactive class via Zoom and 12 hours of asynchronous learning.
You will be assigned one or two coaching buddies from the class to meet with for weekly discussion and practice. You will be expected to speak with your partner for one hour per session for the asynchronous learning portion of the Training.
During each class, brief homework is assigned to reflect on and deepen your learning. Generally, the expectation is about two to three paragraphs of writing each session.
Upon registration, you will receive a reading list. Most readings are optional; however, reading 8 Keys to Parenting Children with ADHD is strongly recommended, which outlines Cindy's parenting philosophy and approach.
Each class is recorded so that you have it for future review. (Recordings are also used for periodic audits by accrediting organizations and occasionally for students in other classes when their recordings are defective. Registering for a class means agreeing to these uses of recordings.)
Training is approved for 36 hours of International Coaching Federation (ICF) Continuing Education credit (24 Core Competency and 12 Resource Development). You can use this Training for the hours needed to apply for an ACC, PCC, or MCC credential as long as you meet the credential-specific requirements. (see below for more)
Workshop materials are updated regularly to reflect new learnings, research, and philosophies. All the workshops, parent presentations, and training materials are intellectual property owned by PTS Coaching, LLC and its founder, Cindy Goldrich. Participants agree that there shall be no duplicating, replicating, or otherwise reproducing the materials for the use of anyone other than expressed by Cindy Goldrich and PTS Coaching, LLC.
Included with your registration:
One free Mentor session each licensed year with Cindy to discuss marketing, client support, presentation support, or business development issues (Value: $175). Ongoing support is always available through additional mentoring sessions.
An invitation to observe the Calm & Connected© parent workshop series live to enhance your knowledge and professional growth.
Marketing and course materials to facilitate the workshops.
Personalized PowerPoints of the parent presentations for use with parent groups as community service and marketing tools.
An APCA Graduate Badge for your website and marketing materials showing that you are a PTS Coaching Licensed Professional Parent Coach.
An invitation to observe the Calm & Connected© parent workshop series live to enhance your knowledge and professional growth.
Access to the Member Only Discussion Forum, open only to Licensed Providers. This page is a place to share ideas, challenges, and triumphs in supporting parents and building your practice. This is also a space to ask questions and get marketing and business development support.
The total cost of the program is $3200. This includes the first year's renewable annual license fee of $600. See the Frequently Asked Questions for details about the renewable annual licensing fee. The Training fee may be paid in full or in two or three payments.
Frequently Asked Questions
Mondays
Mar 6, 13, 20, 27, Apr 3, 10, 17, 24
May 1, 8, 15, 22, 2023
@ 4 pm Mountain Time (6 pm Eastern Time)
36-Hour Training:$3200 or 3 Payments of $1150(Price includes the first year's licensing fee of $600)Register
Testimonials from ADHD Parent Coach Academy Graduates
I knew I needed better communication skills to cope with the new phase of our relationship. …I think it was one of the smartest things I ever did in my life. I feel it will bring me closer to my son and understand what he was trying to tell me, for a very simple reason, I now know how to communicate with a calm and collaborative problem- solving attitude instead of being a judgmental short-tempered parent…Thank you, Cindy.
---
Amal A. (Mother and ADHD Parent Coach Academy Graduate)
This training course and Calm and Connected© material are so fantastic; it's meaty with descriptions of, most importantly, what it's like for kids with ADHD, with concepts like disability thinking on the parent's end to help defray emotional reaction to child's behaviors, solid and sensible communication techniques that can work in ANY relationship… Your delivery is therapeutic, positive, and easy to maintain full attention for 2 hours at a clip.
---
Heidi P. (Mother and ADHD Parent Coach Academy Graduate)
Cindy, I really appreciated the opportunity to attend this session. As I mentioned to you via a separate email conversation I learned more about myself as a result of taking this course and was able to identify myself as an individual that also has ADHD. It was very liberating, and am working on developing additional supports for myself that would help hold me accountable and become more successful both in my career and in my personal life.
---
Salvador L. (ADHD Parent Coach Academy Graduate)
What a great curriculum. Parents had positive feedback with their kids already!! I really like how it flowed. So glad I can offer support and education to parents. Thank you for putting this together.
---
Roberta H. (ADHD Parent Coach Academy Graduate)
I really enjoyed this training! I learned so much from you and have been reflecting on everything I have learned from the moment the course began. You are an excellent teacher and obviously a gifted parent coach. I have derived so many benefits from this training including a stronger ability to stay calm, listen to others, appreciate my strengths as a coach as well as a clinician…
---
Lauren A. (ADHD Parent Coach Academy Graduate)
You've developed a really brilliant program here. I wish I had it when my son was first diagnosed 10 years ago!
---
Gwynn A. (Mother and ADHD Parent Coach Academy Graduate)
I have just completed your ADHD Parent Coach training, and I wanted to say I have never been more motivated to help a community of parents/educators who are lost and not educated enough like myself (before) to know the difficulties of raising and teaching students with ADHD. You opened my eyes to so much!
---
Brittney W. (Educator and ADHD Parent Coach Academy Graduate)
Cindy is a brilliant teacher and coach. I recently completed her PTS Coaching and feel extremely knowledgeable and confident to present this very informative and user- friendly program in my community. Cindy's constant support and feedback allow me to provide parents with concrete strategies, tools, and knowledge that can change chaos into calm. She is "real and realistic," I am so incredibly grateful to her."
---
ADHD Parent Coach Academy Graduate
This training provides a very comprehensive overview of the child with ADHD and why it should be imperative for every parent to take this course. It is evident that you have put an enormous amount of time and energy, and love into this course. For that, I am especially grateful for the course.
---
ADHD Parent Coach Academy Graduate
ADHD, Executive Function, & Behavioral Challenges in the Classroom
Practical insights, tools, and activities to support the social and emotional education of children who learn differently.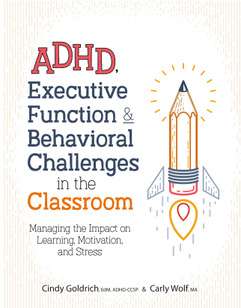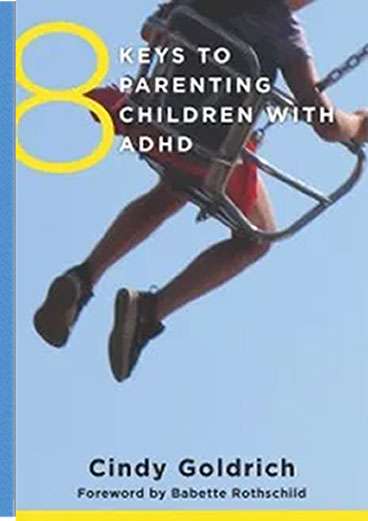 8 Keys to Parenting Children with ADHD
This ADHD book is rich with optimism, tips, tools, and action plans to help your children grow into the best version of themselves.
Cindy Goldrich, Ed.M., ADHD-CCSP, is a mental health professional, certified ADHD Coach, and training professional. Founder of PTS Coaching, LLC, Cindy is a leading authority on parenting and supporting children with ADHD, Executive Function, and Learning Disabilities.
Author of 8 Keys to Parenting Children with ADHD, a concise, easy-to-read "crash course" for parents of children with ADHD based on her Calm Connected coaching model. Co-Author of ADHD, Executive Function, & Behavioral Challenges in the Classroom, an invaluable resource for all classroom teachers full of real, practical, and powerful insights, tools, and activities.
Cindy received her Master's in Education in Counseling Psychology from Columbia University, Teachers College, and ADHD coach certification from the Institute for the Advancement of ADHD Coaching. She has trained with Dr. Edward Hallowell and Dr. Ross Greene. She is a regular contributor to ADDitudemag.com, CHADD's Attention magazine, and a guest on several industry-leading podcasts.